. don't let the sun go down on me .
WOOTS*


I kept to my word and I did wake up at exactly 2.40 a.m this morning just to watch the match. and so babi it when I turned on the tv they were already lining up singing their national anthem. ISH! konon-nya lah 2.45 a.m start. HAHA!
& guess what?!
MY DARLING
was damn blur in the morning but started to get more awake when
Turkey
scored the first goal. OHMYGOSH! i was screaming in the room like some mad girl. damn scary ok.. i was like shit shit shit! germany you better score a goal like
NOW
! and indeed within the 4 minutes i started screaming ;
AMAZING

!

WONDERFUL

!

GLORIOUS

!

MAGNIFICENT

!
this guy is super amazing I tell you. turkey had the lead just for 4 minutes before this guys stepped up his game and knew he had to score the first goal. exactly like what happened during the match w/ Portugal. It was just
LOVELY
!
♥
.

Bastian Schweinsteiger

is congratulated on his leveller by

Lukas Podolski

.
phewww* my heart stopped beating as fast d cause I knew it was leveled again! thanks gudenss. den it reached the half time mark. SCARY MUCH!
and just as the
second half
started, after a few minutes,
guess what just had to happen?
goes the tv screen. apparently it happened to all the channel's cause of some technical problem in Basel.
DAMN YOU TV SIGNAL
!
was so frustrated sitting on my bed looking at an empty screen not knowing what's happening. aiyoh. was watching NT7 cause was too lazy to walk down to watch ESPN. and den the Host Jien and Adam C. started talking bout the game and all and suddenly they said something which made me so happy!
"I just got the news live form Basel that
Miroslav Klose
had just scored a
GOAL
for germany to make the scored 2-1 w/ germany in the lead"
.

Miroslav Klose

beats Rüştü Reçber to the ball to head Germany in front .

YAY! YAY! YAY!
♥
by that time when i heard it I was so happy I started screaming again. again when I watched the repeat at the end of the match, it was his famous head-shot goal. exactly like the on he did with Portugal again. COOL-NESS! haha.
and after that not even 10 mintues Jien started saying
"Oh here's an update that
Turkey
has scored their
second goal
from
(fill in name here ; i have no idea who. HAHA)
leveling the score again at
2-2

"
they didn't even get the signal back and this is what happens. i almost felt like fainting at that time ok. so dumb lah. was screaming like some mad girl at home cause of all the frustration. how can this happen?
Jens Lehmann
lah, never take care of the goal properly. and i'm sure it was an easy goal for the turks when i saw the reply. BABI-ness!
and then ,

goes that idiot box again! GRRRRRR! already lah i so angry w/ that 2nd goal form turkey, they wanna do like that to me again. i swear to you i could have kill the people handling the tv singnal there at Basel. GAHH!

thank gudness it came back on just in time for me to scream

"GOALLLLLLL!!!!!!!!!"



once again from
PHILIPP LAHM
.
AWESOME

!

SUPERB

!

GREAT

!

PRAISE THE LORD

!
.

Philipp Lahm

(left) wheels away in delight after his last-gasp winner .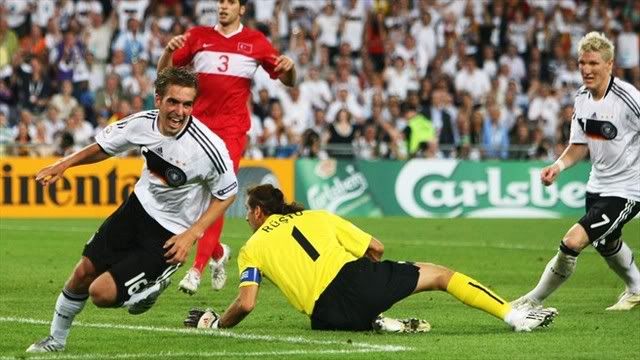 it was and is a great goal at the 88th minute of the game. and after the awesome goal, I was like
"faster blow that full time whistle! FASTER! FASTER!"
so they didn't have to go into extra time and level things up again and then go to a penalty shoot out. i cannot take it anymore! HAHA.
then, sweet music to my ears
PIIIITTTTTTTTTT*
in CONCLUSION,


Germans rejoicing,



Nicole
rejoicing,



Turks
disappointed!
. Captain

Michael Ballack

happy with his team mates .