. then they say that a HERO can save us? .
24th June 2008
was one of the most fun school days. well not the school part though. HAHA! it was practically raining the whole day. perfect weather for snoozing! lessons were boring as usual. went for some talk about studying overseas'. in the end me, jocelyn and pei yen started talking by ourselves instead of listening :D
GOD IS GOOD
♥
all the time, he puts a song of praise in this heart of mine......
he is really
awesome
! was supposed to go on a lunch date w/ my babes today and i was so scared it was gonna rain the whole day and i don't really dare to drive in the super heavy rain yet. and guess what?
IT STOPPED
, when i got home from school. perfect timing.
took my lovely bath and headed over to
zhu lian's
house to get something but that mangkuk wasn't in! called her house so many times and I was like an idoit honking outside her door when there's nobody. ISH! got so frustrated and left. HAHA.
then I went over to fetch these two ladies ;

headed over to queensbay. and this time i could reach the ticket! HAHA. damn funny. i suck at parking but again
GOD IS GOOD
! gave me such an easy parking where I just had to turn in and park the car. lol.
went to watch ;
before that had to rush for lunch @ Johnny's because we didn't know wat to eat and we didn't have much time. ate so fast like anything. BRAIN FREEZE when it came to the ice cream. haha.
. my sister . my badminton pal . my best friend . my joker . & the list just goes on
well, I did enjoy the show. some parts were funny. but it was worth my RM 6 watching.
after the show ended, went to popular to get a few things mainly SPM Past Year Question Papers.. gahhhhh* I hate thinking bout it.
den left for dinner @ E-Gate.
NOTE ;
I'm so PROUD of myself as a P driver knowing how to move to the side to let the ambulance pass and not being like other cars so inconsiderate. HAHA!
reached E-Gate, didn't know what to yet. mind you we were still full but we still wanted to eat. haha. went to Noodle Station. the food was ok. but it just that we were all still so full. ended up talking more instead of eating..
ordered some weird drink. HAHA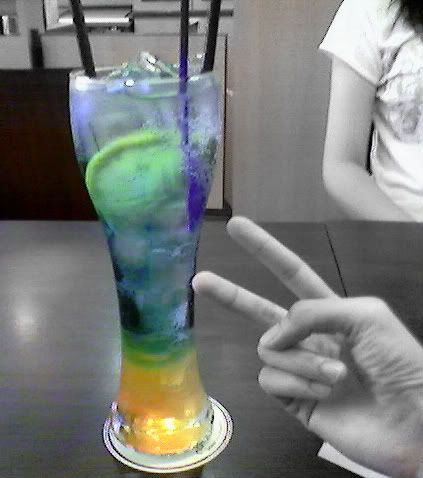 after eating we wanted to go home one actually but we got side track.. HAHAHA! this is damn funny. i'll always remember today my dear's.. went round and round and round and round a
field
, den went to fetch janice to another
field
and sent jan back home and went to that
field
again! HAHAHAHA! damn lawak lah we all. i know people must think we're mad seeing that
black kenari
going round and round.
. ELMO NG is SHY. hahahaha .

P&C
in conclusion, today was a


PERFECT DAY!
w/ amazing company.


&
now one more thing is that
pls do give your
FULL SUPPORT
to my most amazing team
GERMANY!
.italy is out so I ain't supporting anybody except my team anymore.
. TEAM CAPTAIN .
don't foget to watch
TURKEY

vs GERMANY


thursday, 26th June 08`


2.45 a.m!
nyahahahahah! parent's have gone to singapore and i've got the room all to myself w/ a tv in front of me. no need to run down and watch! i promise i won't be lazy!

.HOPE THEY WIN.
*fingers crossed*
that's all bout my update today. singing off now and hitting my sheets!
xoxo ; little miss sunshine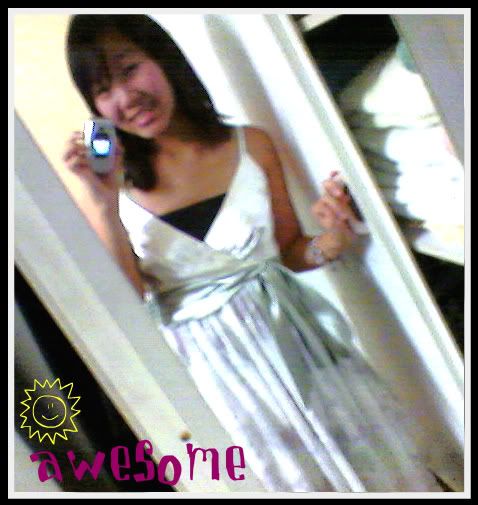 p.s //
sorry for the lousy quality picture.
my darling W580i has gone to singapore to get it's keypad changed
currently using my samsung again!
DAMN!