WARNING

:

picture spam ahead. lol
can you imagine how vain can it be when a whole bunch of girls gather?
. I'm gonna

DREAM BIG

; I'm not just another pretty face .
hey people
, i'm back again with more posts.
ya'll better thank me and stop complaining that I don't update
told ya I had loads to update about.
and the best things is, I have pictures! :D
*nyahh i know ya'll love pictures. don't deny it.
gosh I fell like this whole july i've just been update bout birthday's
here goes
Karen's Seventeenth Birthday Party
!
FUN


JOY


LAUGHTER


LOL MOMENTS
before all that happened, I went to fetch miss Su Quin from her tuition den off to fetch Jocelyn. wanted to go gurney shopping but we didn't have time and I was too lazy as well. but then we got bored we decided to go to gurney to have a quick bite before going for the party. mom let me drive and the brother let me use the car. HAHA.
*shouts of joy
reached there and we went to eat at
A&W
didn't know where else to go
i couldn't decide which picture to post up so i posted up both. HAHA.
see the smart-ness!
after that, we all 3 dungu's sat in the car not knowing where was the dumb place.
damn funny ok in the car. i was screaming like mad and the both human's in the car were not even doing anything.
but no worries, I did find the place. i'm so
AWESOME
! lol
reached the apartment and we already started talking.
i'm never EVER gonna forget what this stupid yi lin did when she went out to get her camera.
LMAOOOO!!!
ask her for more details.
all we could do was sit there and literally laugh till our jaw was so damn numb
thanks so much yi lin
(giving the sarcastic look)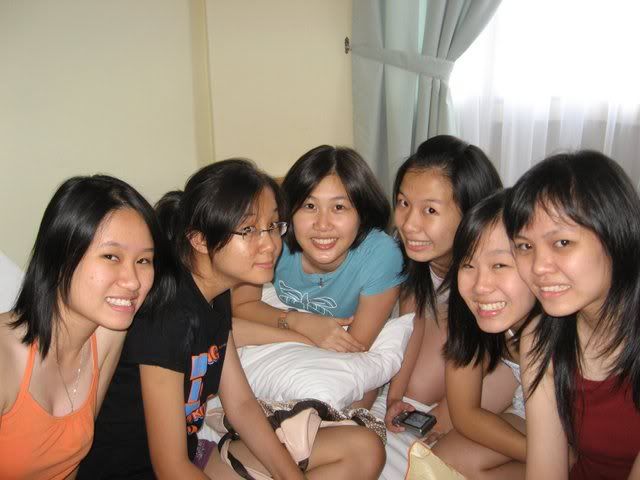 and yes there was more laughter after that
i'm just so glad to have known people like them
they make me smile and laugh most of the time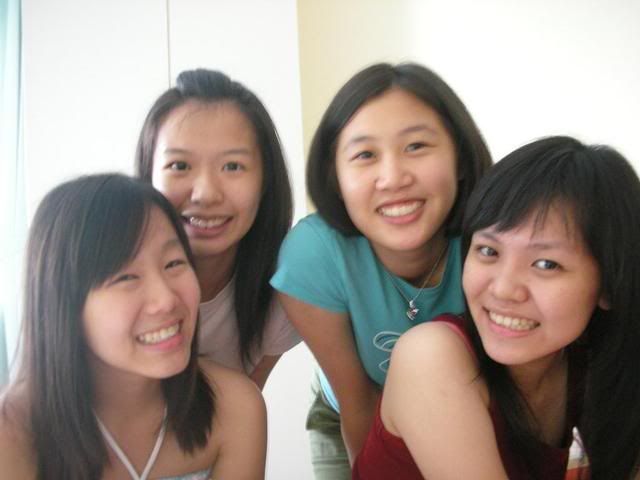 after all the talking, we went down stairs to start the
BBQ
yumminess! seriously yi lin could be a joker some day.
she does the silliest things nobody could ever think of ok. you should see her BBQ the chicken and all the other stuffs.
i'm even laughing as I write this down ok. HAHAHA! there's no words to describe your silliness yi lin dear. I thanks god for who you are =)
half way during the BBQ had to go off and fetch my dear elmo from i dunno where.
so all the kepo's followed me. jocelyn, florence and xu jen to show me directions.
and drove her back safely to the apartment.
yes, the
"SS" session
beings w/ the lovely camera
I
♥
them
I
♥
them
I
♥
them
awarded by me for the best picture of the night
the ever noisy bunch from CGL
now you know the reason that when we go out we're always so noisy
but i rather have noise that quietness
so tq for making them. haha.
being
G-I-L-A
as usual
oh I can even see karen behind us.
HAHA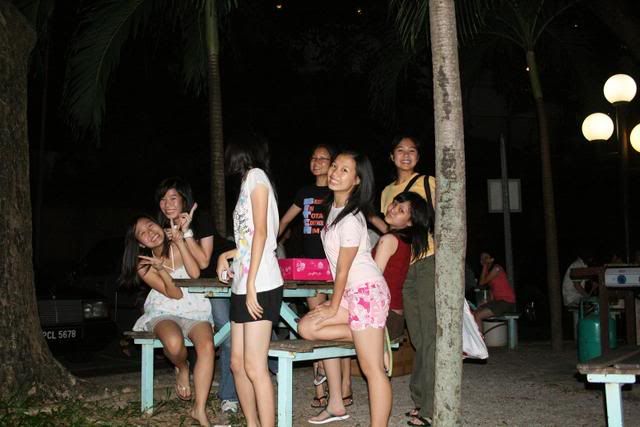 and these are moments which I will treasure
you know it always fun when they're around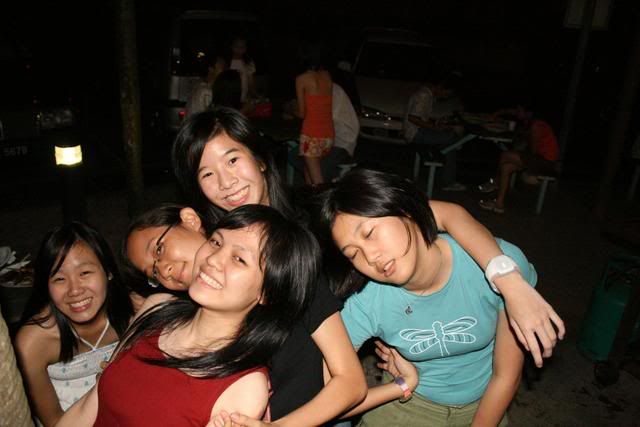 WEIRDO-es!
yi lin burnt the marshmellow.
and it looked DISGUSTING w/ oil coating.
YUCKS!
nicole : errrr? where's the camera? the dumb flash is blinding ok
su quin : be like me! squint your eyes and just smile.
damn flash!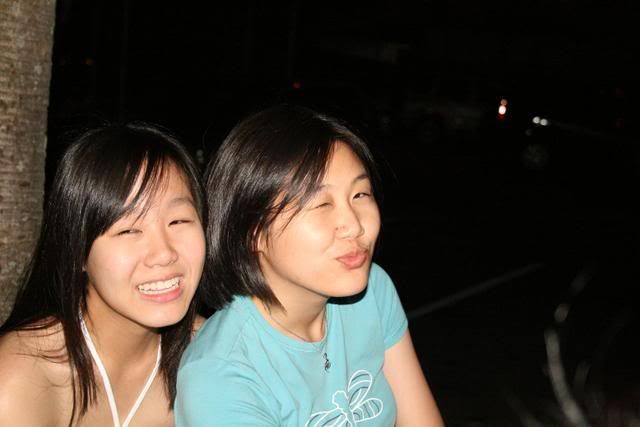 CANDID
on the road
i had fun!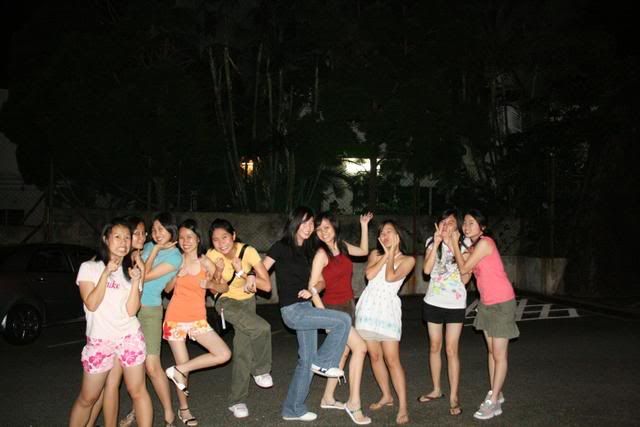 a simple picture is nice
can see all the pretty smiles
i told you i
♥
my simone!
so hands off people!
she's mine.
LOL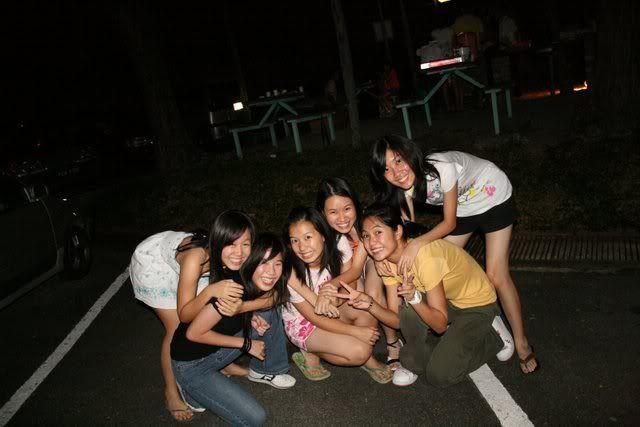 &
here's the ever happy birthday girl
Karen Teoh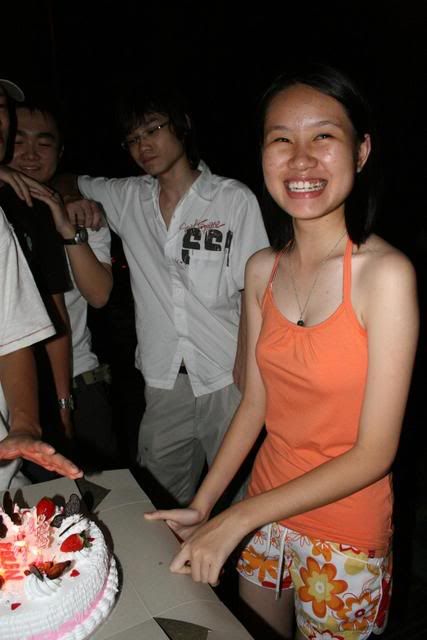 I told you it's classic.
everyone HAS to do it.
if not, you're just weird ok!
and the nest part was, the cake was covered totally w/ cream ok.
(evil thinkings are coming out)
don't worry the guys did play w/ the cream after we all ate the cake. lol
CANDID
but i somehow like how i look in the picutre

GROUP SHOT!
everybody who was there
the aftermath.
TIRED!
waited for everybody to go home and miss teoh wanted to go to the beach. didn't get to sleepover though. su quin was already in the PJ's wanting to go to bed so she stayed in the apartment and so pathetic all 6 of us had to squeeze in the little black kenari. GUDNESS!
and the best experience was, there was a freaking accident and so chun I was driving beside a police car.
EVERYBODY BEND DOWN!
lol..
it was damn scary ok
so i just drove pass them and went another big round. HAHA. so dumb nicole tan. but it's better that being stopped by the damn police. lol. reached the beach but there was no parking so dropped karen and shin ye off and me, jocelyn, pei yen and yi lin went back.
stopped at the MAMAK stall for really late night supper

my darling elmo
and we ate this.
+ one nasi goreng
and by the time we finished, it was already like 12.45 a.m! OMG!
wtf? i'm so totally gonna get screwed upside down from my mom.
quickly drove home SAFELY,
dropped pei yen home and quietly went up to my room
HAHA!
but all in all it was an awesome party! thanks again karen