. i'm going to be your little sunshine .
got tagged by
melanie
. and i guess i have to do yet another tag :D
INSTRUCTIONS : Remove ONE question from below, and add in your personal question, make it a total of 15 questions, then tag 5 people in your list, list them out at the end of this post. Notify them in their chat box that he/she has been tagged. Whoever does the tag will have blessings from all. (you must be crazy to believe the blessing thing)

**

changed a few question and deleted some because i already answered some of them in my last tag. SORRY!
1. Do you believe in love at first sight?
i don't think so. it's not
♥
, it's like only lah
2. If you were to be stranded on a deserted island with your handphone which actually has a signal, who would you call for help?

911! ; helpppppppp!
jocelyn ; well not that she would be of any help but i could talk to her till my help comes. HAHA
mcd? ; i need my food ok. den they could resuce me
:)
3.What place do you want to go the most?
the whole of Europe
4. What do you feel like doing right now?
sleeping
5. If you win $1 million, what would you do?
donate some to charity , go watch my badminton matches , shopping , new camera!
6.List out 3 good points of the person who tagged you.
; bubbly
; she BITES
; cute
7. Which do you prefer from your other half? A hug or a kiss?
i dun't know. i dun;t have my other half. but i would prefer a hug!
8. Are you more afraid of failure or loss?
both actually. but more to the loss part
9. What kind of electronic device/gadget you own that you like most?
my handphone lah of course! it has everything ; internet excess , camera , MP3 player
10. If you had the chance, which part of your character you would like to change?
the being lazy part
11. What makes you feel disappointed?
not doing well in my exams
12. If given a chance, do you want to see your future?
nope, i rather wait and see what God has planned for me instead of fast forwarding it. i dun't wan to become older faster.
13. What are u currently addicted to now?

american idol ; one tree hill ; cheesy wedges ; badminton
14. Who would u like to actually meet in person?

David Archuletta ; David Cook ; Chad Micheal Murray
♥
. well i've actually met everybody i wanted to meet @ world championships and malaysian open .
15. Who do i choose to TAG?
; charisma - since u said you
♥
doing tags
; pei yen
; joyce lim
; woan shing


American

Idol

Season

7





totally rocks my socks

i'm seriously enjoying it now and i think this is a really good season w/ talented people. and to the two people i really admire most!



David
Archuletta
*sighssss.....
the cuteness! , the ever charming smile , that cute dimple , the small eyes , that black hair.
HAHA! dun't mind me i'm currently going "go go ga ga" over him I tell you!

and i officially
♥
the number

28

! GAH! we have so much in common! LOL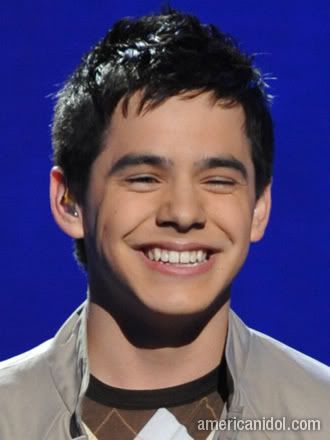 and of course not forgetting the rocker :



David Cook
another dude to drool about for me!
voice damn chun ok. creative and a risk taker. but it all finally worked out!
WOOTS*
he made a song about a sparrow worth listening.
♥