. we are, we are all innocent .
I can finally scratch of
"do moral folio"
from my to do list.
I'm so relived I've finally passed it up and done w/ it.
*phew*
It's really so tiring to do this stupid folio, it serves no purpose! HAHA.. so we had to take pictures for our folio and jocelyn came over to my place and we took some of our remaining photo's.
. would you believe me if I said?
I DID THOSE THINGS? .
well thank God that's over. now back to studying. it sucks much.
my weeks are not getting any better. and i have terrible
mood swings
again. so if i jus get angry and start screaming at you.. well you can just walk away or bare w/ me. it's all the stress that's getting to me I tell you. school is somehow getting frustrating. teachers are getting in my face like those irritating mosquitoes and so much work is piling up like nobody's business.
H-E-L-P!

but I thank my friends who are able to put up w/ my sucky attitude nowadays in school.. I know I complain a lot..
HAHA
!
and here are some of the birthday pictures. but the rest i'll keep. they are sort of P&C. thanks to them "hiau" girls.
. friends are forever ; guys are whatever .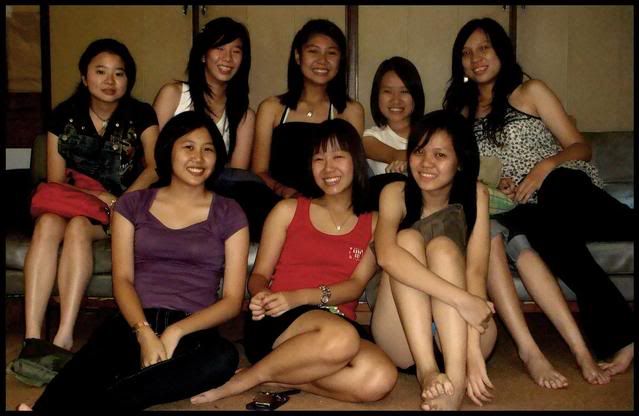 . the girls who were there .
last saturday, we had out
Triple Challenge
event by youth wave.
mom and dad took me and yan all the way there to balik pulau stadium.
&& it was pure
FUN
!
all the running and screaming ; I really worked it out man.
but my team din even make it into the quarters or i dunno where.
HAHA
. we lost to the both teams. but oh-well, I had fun, except for some of them "female dogs". but the other team almost got into the semis w/ jus one goal down. DARN!
but we
fireBRANDS
really did our best and most importantly had fun.
. we're all grown up now .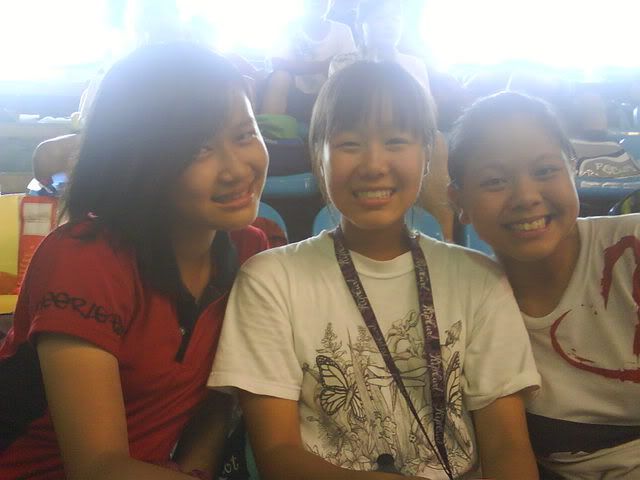 Euwye took us smelly people back home.
come back first thing ; TV! - badminton . well our KKK/TBH lost.
wtheck?
screamed like mad for them ok. ish
didn't have youth at night.. while some of them were in gurney/parties, I was at home sitting on my chair studying. oh what a night I had. HAHA.
woke up early the next morning jus to go to church, teach the kids dance again. thanks gudness we remembered the steps after hearing the music. it was so lovely to see some of the girls who are fast learners. and well the boys are being naughty as usual.
. vanessa cheng .

♥

hearts
went for lunch w/ parents & their cell members. it was a really yummy lunch indeed! after that, uncle jack chia-ed us coffee @ northam hotel. came back home and off to the TV once again. watched till it ended and had to bathe.
yan came to my place and the fetched sharon and off to new world park we went.. after our dinner, walked all the way to GBC for the
Prize Giving
from the triple challenge. well the first youth wave was better. but i can tell u one thing I enjoyed the most.
PASTOR ANDY's
message.. I just love all the energy he has and the way he talks, gosh! I didn't even feel sleepy at all during his message. this proves how good he is. HAHA.. but it was nice.