. you'll always be apart of me .
my week has been really
BLAHH
! i really hate it when people talk about you. and you know it's so not true!
whattheheck
ok! if you dun't trust me and think i'm doing all these on purpose, den just kick me out lah.. not making an excuses not to go.
GRRRR
.. hope i dun't turn out like that next time.
have been studying lately and i hope all those fact stays in my brains. mid year is jus round the conner. and it's like for 2 weeks.
SPM
is coming nearer and i'm damn scared. trails also i not ready ok!
die die die
.. and so, to take things off my mind, i decided to decorate my board which was once empty but now it's more filled up. LOL
. badminton rocks my world ; so bug off .
. we can work it out .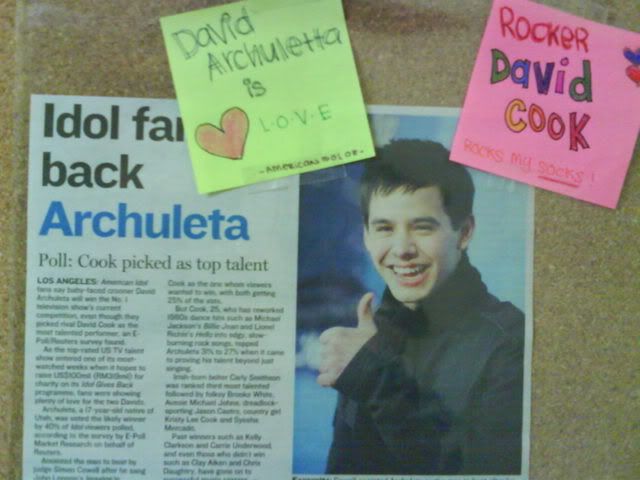 saturday

;

florence seventeenth birthday
oh yea it was pure fun and laughter! my
oh-so-sampat "3 8" friend vern lim
made us laughed like mad ok. my jaw was literally numb from laughing anymore. it was so pain ok. and the moment he stepped into the house, his mouth just didn't shut up for a second! until we got so fed up and we were all screaming
" SHUT UP VERN LIM"
hahaha..
we as usual did more talking then eating. gotta meet florence other half. haha.. time for the interviews, played mafia but then rest din get it so we kinda gave up and played bullshit.. did quite ok. got bullshited a few times. HAHA. so ppl dun't lie.. there will be consequences :D
left around 11 smth, buy the time i droped jocelyn back home was already 12 a.m. studied awhile when i reached home den off to bed!
sunday

;

church & captain ball
woke up early den yan called me told me we had sunday school duty, after that planned the dance for the 4,5,6 years old kiddies! gosh! i din believe they were so small. HAHA! but yet they're still cute. after church we had committee meeting so went to eat lunch w/ yan. did some catching up. den these ppl begged me to go for captain ball, so eunice took me home to get changed.
. V.I.P ; vain in person .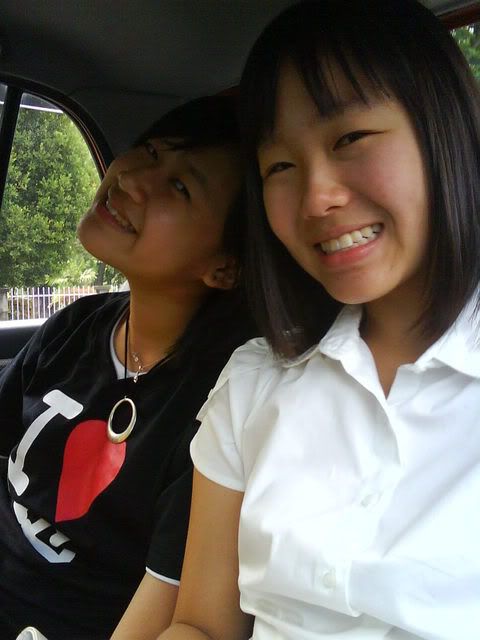 got back in time for committee meeting. GAH! dun wanna talk bout it. after that went to sharon's place so she could get changed. took a picture there w/ yan. and it so reminds me of the celebration of hope picture we took last year. w/ diff hairstyles of course! :D
. we're different now .
den on the way to youth park. I was so damn hungry and we saw the bread man @ loh guan lye and we like little kiddes rushed out of the car and went to buy all those junkfood! bad for health man. HAHA. den reach youth park, captain ball was great. never sweat so much before ok. daniel tay din come so we were the "strategy-less" group. but we did quiet ok lah!
den after that had a short game against GBC.. replaced sharon. did quiet ok. we were actually winning den somebody changed the score. oh well.
it was all fun!
Grandma's 82nd Birthday Celebration
ok! this is why i din attend youth ok?!
it was nice to go our for a family dinner when all my aunties come down. only my 2 cousin
[koko stanley and serene]
was not able to make it. so we got dressed up. and then left the house to ocean green. i can't believe all of us wore so nice so go and eat in an unaircondictioned place! the stupid mosquitoes! i'm gonna kill them!
and the food was excellent! the prawns was so fresh as if they had jus caught it and straight away cook it for us! DAMN good! they yummie-ness. my fav part was for sure the CRAB!
. it's finger licking good .
the cake was real nice too. chocolate coffee cake. it was not too thick nor too filling. it was jus right!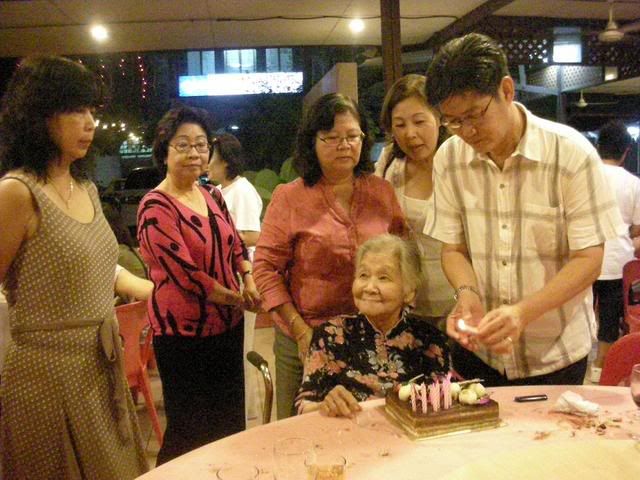 and after that, as if we were not full enough, a few of us went to hagen daaz to eat summore. no lah! we were just taking the chance to spend my cousin's money! because we was going to chia us before he left! HAHA. so all of us went to eat.
and we did have a lot of laughs!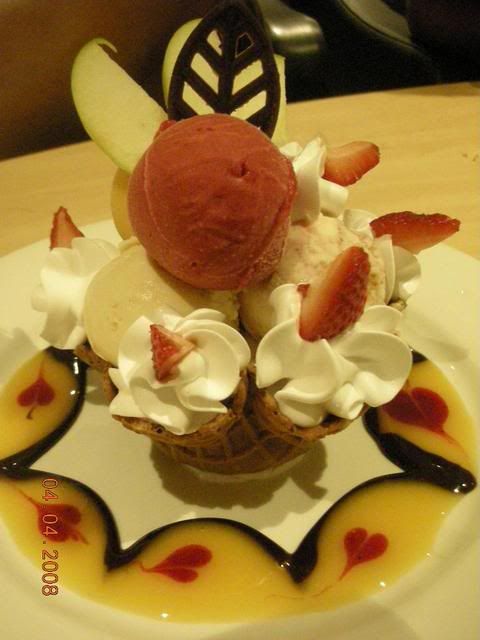 and of course the oh-so-yummy
. choc fondue .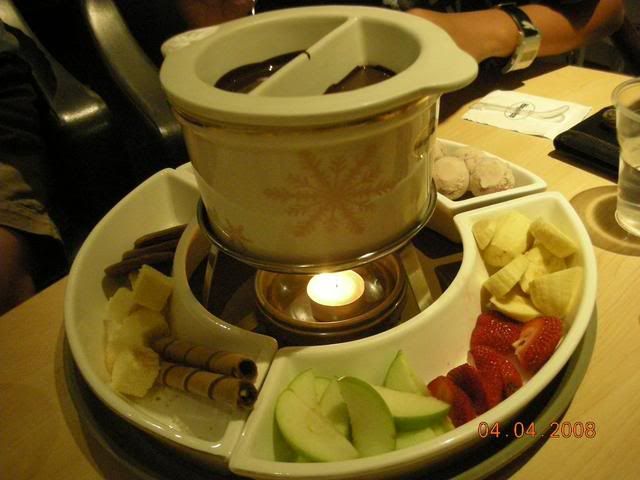 let's hope my days gets better.. triple challenge tomorrow! rest well people! see ya'll!
back to studying.
keep those taggies rolling!
xoxo ; little miss sunshine